2019 Summer Programs
Classes
We have classes for students wanting to improve and continue with dance over the summer. Professional guest teachers will also join our staff to provide additional training. Classes will run for 5 weeks from July 9 – August 8. Scroll down to see the class schedule or click here for a printable version.
Competition Team Auditions
We are holding auditions for our 2019-2020 Competition Teams on May 28-29 for dancers ages 3-18 who are interested in joining one of our teams. For those interested in learning more, an informational parent meeting will be held at the studio on May 18 from 10:30am-Noon. Click here for more information.
Summer Camps
Musical Theatre Camp – Mary Poppins (June 10-14)
A full week of acting, singing & dancing
Performance for parents on June 14
Camps runs daily 10am-Noon
Recommended for ages 4-18
$145
Summer Dance Camps – Descendants (June 24-27) & All Things Magical (July 29 – Aug 1)
4 days of fun
Themed dancing, games and crafts
Many styles of dance each day
Snacks and craft included
Camps runs daily 10am-Noon
Recommended for ages 3-10
$125 per camp
Schedule for All Summer Programs
Click here for a printable version of the 2019 Summer schedule.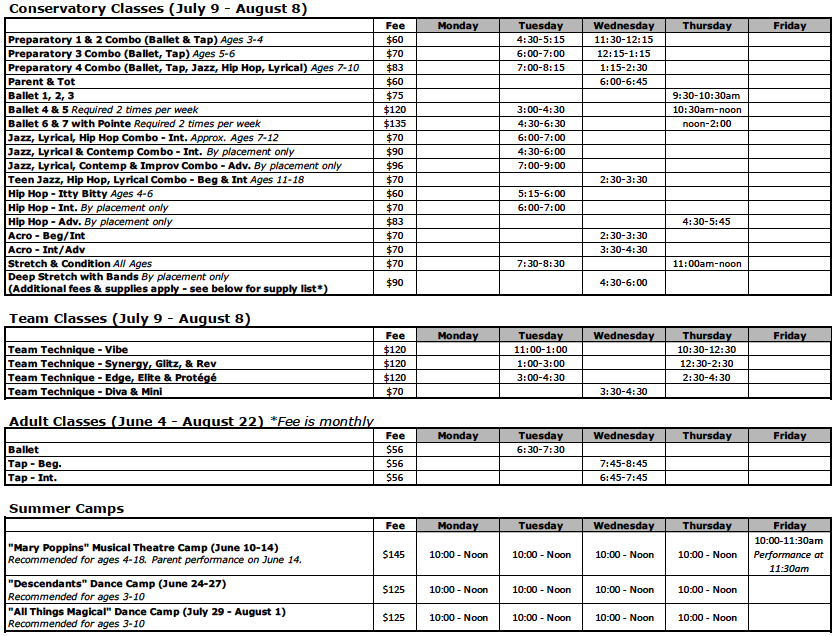 Notes:
Unlimited Dance Plan: Attend any age/level appropriate classes during 5-week session for $210. Clinics and camps excluded.
Deep Stretch Supplies: Must bring own therabands (light, medium, heavy), yoga ball, lacross ball, full circle stretch band (light, medium, heavy), 9-inch playground ball.
Team Clinic & Choreography will be held Aug 12-16.
Classes subject to change based on enrollment minimum/capacity.
How to Register?
To register online, click the "Register Now" button on the registration page, follow the instructions for either a returning student or new student and select the "Summer 2019" session. Then, please print and complete the forms listed on our registration page and either email them to echo@echodance.com or turn them in to the studio office. To complete full registration in person, visit our studio office.