Class Schedule
ESD's 2017-2018 dance season runs from September 5 through May 31 and is divided into two semesters.
Semester 1: September 5 – December 31
Semester 2: January 1 – May 31
Conservatory students must enroll in a minimum of one semester; however, we strongly recommend commitment to both semesters to gain proper development and progression. If interested in performing in our Spring 2018 Recital, enrollment in Semester 2 is mandatory.
Adult students must enroll in classes for at least 2 months or purchase a punch card.
2017-2018 Class Schedule
Click here for a printable version of the full schedule.
Conservatory Classes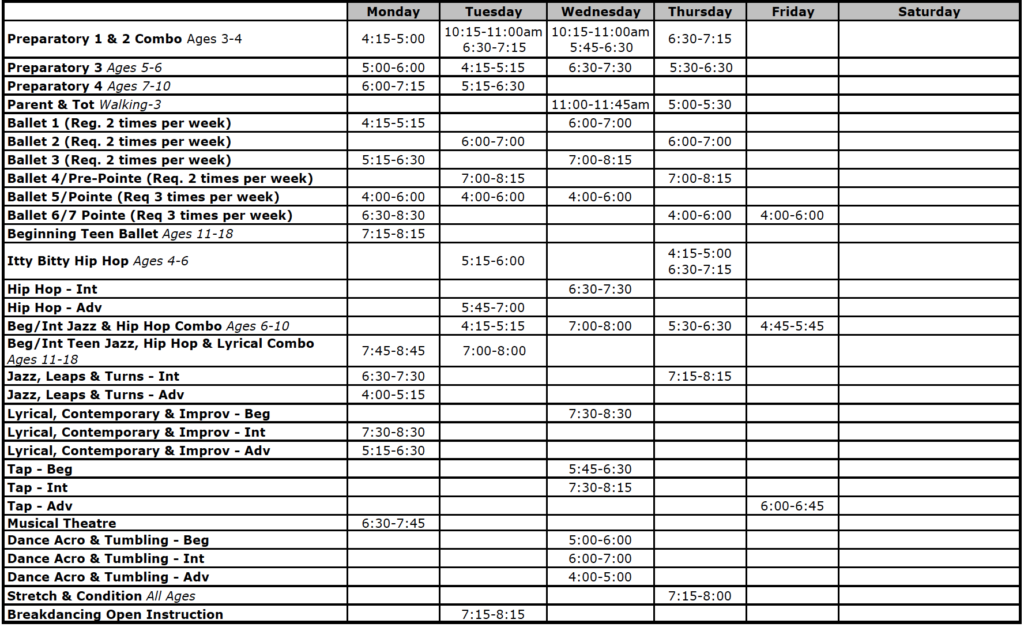 Notes:
Conservatory classes require a 1 semester minimum commitment.
Classes are subject to change based on enrollment of 5 student minimum.
New classes will open when others reach capacity.
Private, group, ballroom, swing, and zumba classes are available upon request and instructor availability.
All times noted on the schedule are PM (evening) unless otherwise indicated
For students taking or aspiring to take pointe, please read our pointe shoe policy.
How to Register?
To register online, click the "Register Now" button on the registration page and follow the instructions for either a returning student or new student. Then, please print and complete the forms listed on our registration page and either email them to echo@echodance.com or turn them in to the studio office. To complete full registration in person, visit our studio office.